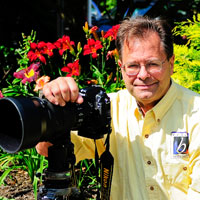 My 35 year background as a corporate pilot has afforded me the time to pursue other business interests. In 1977, my brother Tom and I started Berg Brothers Logging, cutting saw timber and veneer logs throughout southeastern Pennsylvania. In 1987, I started a new business, Bergs Craftsmanship In Wood, handcrafting custom furniture and built-in cabinetry throughout Pennsylvania and New Jersey.
A 2005 trip to Yellowstone National Park changed me in a profound way. While there, I was bitten with the photography bug. Since then I have upgraded my Nikon camera equipment and have honed my printing skills via workshops with Nature Photographer John Shaw, master printer Andrew Darlow, and the Epson Print Academy. We have recently renovated our cabinetry showroom into a combination furniture showroom and Canvas Gallery.
See our Canvas Printing section for our entire range of printing services.
And check out "Capture To Canvas", our new on-site photography service.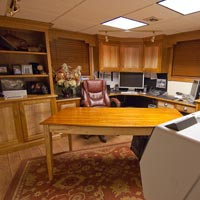 Our Digital Darkroom
A long-time Nikon enthusiast, I have been shooting with the Nikon D800E, 36mp and the Sony NEX7, 24mp bodies. My most-used lenses are Zeiss 21 F/2.8, Zeiss 100 macro F/2.0, Nikon 14-24 F/2.8 and Nikon 200 VR F/2.0.
My color managed computer and dual monitor system is the Apple Mac Pro with 30" HD and Nec Pa 242W-BK.
Post processing is accomplished with Adobe Photoshop CS6 and Lightroom 5.3. Autopano Giga 3.0 for panoramic and Photomatix Pro for HDR work.
OnOnes PhotoSuite 8 and Nik Collection are my most-used plugins.
Scanning is accomplished with the Epson V750 Pro.
Printers are Epson 9900 44", Epson 3880 17", Epson 4880 Dye Sublimation 17", and Epson 1430 13" Dye Inkset.
Our laminators are both SEAL a 44" ultra hot roll laminator and 62" Base cold roll machine.
Our new dye sublimation process for metal prints requires heat process. We operate the Geo Knight DK20S and DK25S for metal prints up to 16" x 24".